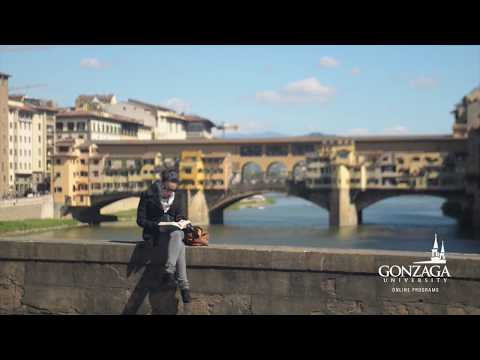 Gonzaga University offers students the unique opportunity to experience their graduate studies in a global context with several study abroad options. Our study abroad programs are affordable and designed to accommodate the working professional.
Florence, Italy
Renaissance Leadership & Rhetoric
What better place to study leadership than Florence, the center of the Italian Renaissance art movement, and the home to the Medicis and Michelangelo. Explore Florence and Tuscany and witness the leadership that took place hundreds of years ago to create this magnificent center of art in the world.
Join Dr. Micahel Carey and Dr. John Caputo as they examine 15th century European Renaissance through readings, discussions and on-site visits to historical settings in Florence and Siena. Draw upon the creative processes of artists – painters, architects, musicians, and writers – to apply the same dynamics of creative thinking to practical work of leaders in today's organizations.
Click here for full details
Cagli, Italy
Intercultural & International Communication
Go from casual tourist to global citizen as you begin in Florence and move into the Italian medieval village of Cagli located in the Apennine Mountains near the Adriatic Sea. This unique opportunity will give you the tools to access a foreign culture and acquire practical language and multi-media skills using proven cultural immersion techniques.
Students work to produce multi-media stories combing classroom instruction, lab work with field work with faulty members serving as supervisors. Students will use essays, blogs/podcasts, and photos to describe elements of intercultural communication in a foreign environment.
Click here for full details.
Cali, Colombia
Leadership and Accompaniment
In parternship with Javeriana University, this course is designed to increase student understanding of the connection between macro, mezzo and micro factors that affect community development. Students will work with local community leaders to gain first-hand experience of asset-based community development models.
Led by Dr. Lazarina Topuzova, this course will provide strategies for applying leadership and social justice frameworks within local and global contexts.
Click here for full details
Benin, West Africa
Clinical Prevention for Diverse Populations
Nursing faculty Dr. Susan Norwood and Dr. Jane Tiedt will lead students on this study-abroad opportunity with a service-learning component. Students will compare social determinants of health and their impact on disease occurrence in the US versus Benin. They will critique a health risk message and adapt it for Benin, and will plan and implement health promotion activities for trainees and staff at the Songhai Center. Additional health promotion activities may take place at the rural village of Zoungbomey, with whom Gonzaga has a long-standing relationship. Excursions that will also take the group on historical and cultural sites that provide a glimpse into Benin's past.
Click her for full details